Home
Blog
Renew Your Car Protection in 2 Easy Steps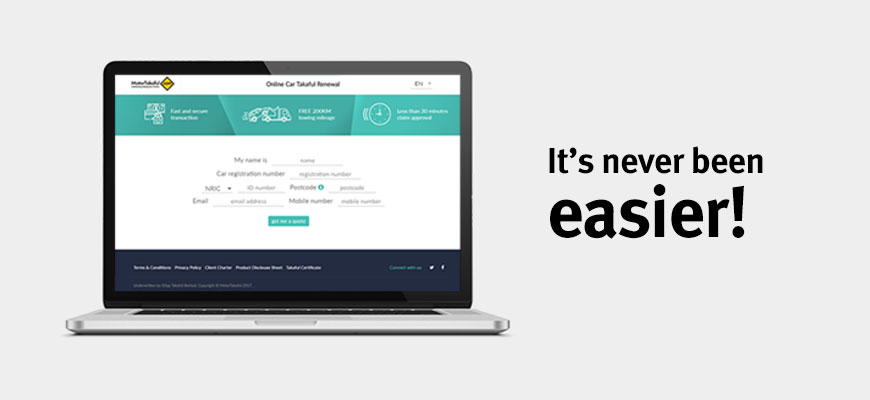 Renew Your Car Protection in 2 Easy Steps
We've all heard about how easy it is to renew car protection online. But at Etiqa, we have made it even simpler to renew. With just 2 simple steps, you are done and Etiqa got you covered!
Step 1
Input your
personal details
such as:
Name
Vehicle Registration Number
IC Number 
Postcode
E-mail Address
Mobile Number

Note: If you are a returning customer, your contact details are automatically filled.
Step 2
In the next page, you will receive:
Your proposed sum covered and premium, 
Detailed information on your vehicle – Vehicle Registration number, Vehicle Make, Model and Variant
No Claim Discount (NCD) % 
Period of Coverage
You can also add additional coverage such as:
Flood Cover
Compensation for when your car is under repair
Loss of use
Driver's and Passenger's PA
Legal Liability of Passengers for Acts of Negligence 
Windscreen Coverage
Upon selecting your desired additional coverage, click on the declarations and PDPA consent and proceed to make your payment. For your convenience, we have many payment options to choose from.
Once your payment is successful, you will receive your policy details and you can proceed to renew your road tax!
That's how simple it is! In addition to our simplified process, here are few more reasons why you should choose Etiqa as your preferred Car Takaful / Car Insurance provider:
All Authorized Drivers: There is no need for you to put in any named drivers, all your authorized drivers are automatically covered.
Nil Excess: All claim excess will no longer be imposed to your vehicle insured under Private Car Comprehensive and Third Party Fire & Theft.
Agreed Value: We will cover based on the agreed value chosen during renewal of your car protection. Insuring your vehicle based on Agreed Value will eliminate the risk of under or over-insuring your vehicle.  In the event of a claim, you will be reimbursed according to the agreed value. No questions asked.